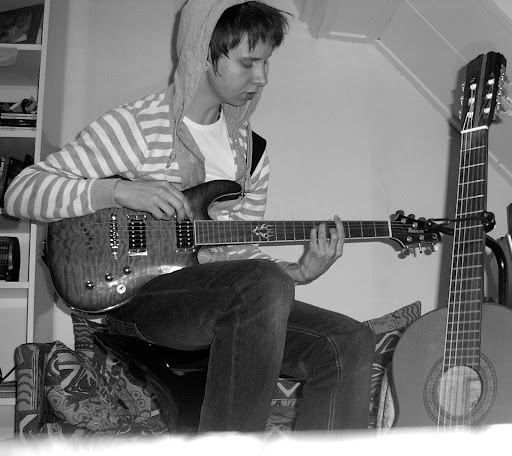 Tim werd geboren op 15 september 1990 te Woerden. Op jonge leeftijd had hij veelal interesse voor andere dingen dan muziek. Moge de laatste jaren nou net die interesse groter zijn geworden. Naast indie, brit en hardrock luistert deze jongen ook naar singer/songwriters. Hij is een beginnend gitarist en zanger.
Questions:
1. Who's your favourite artist and why?
Chris Cornell, he's really alive and he acts and performs like he truly is.
His shows and cd's are such energetic, I can't hardly believe this person is still alive after his soundgarden and audioslave period.
2. What's your favourite band and why?
You can't call Chris a band, he's allround at the moment you know... my favourite band will be the Arctic Monkeys, yes, a bit cliché I know.
But the way they do their things on stage, their unique sound they have, I just love it.
3. Which songs make you cry because of the beauty of it?
Patrick Watson's 'great escape', Jeff Buckleys cover of 'Hallelujah', David Gray's 'This years love', Sting's 'Fragile', Pilot Speed's 'Alright' , The who's 'Behind blue eyes', Chris Cornell's 'Sweet euphoria', Eric Clapton's 'Tears in heaven' are definitely songs that've made me cry, and they still doe that.
4. Which song makes you cry because it's so poor?
Lordi - Hard rock hallelujah, alex c - du hast den schonsten arsch der welt, Gewoon Rutger - Was het een droom are some songs from which I say that they're first class crap, and it really is!
Don't listen to those songs!
5. What's your all time favourite song?

Probably a Jeff Buckley song or a Chris Cornell song, I can listen hours to the same song, which the artists made. But 'Last goodbye' from Buckley is probably one of my favourites at the moment. And from Chris I would 'Like a stone', a song made when he spend his days in the band called Audioslave.
6. What's the best song ever written according to you?
Pilot Speed - Alright, and the reason is a bit personal, just listen the first rules and you can probably understand me a bit.
7. Which artist/ band will become big in 2008?
Vampire weekend, Bombay Bicycle Club, The Rascals, Malcolm Middleton, One Eskimo, British Sea Power, Jens Lekman and Elvis Perkins will become very big after the festival season.
8. Which artists/bands are hot at the moment and which are not?
Hot: Vampire Weekend, Patrick Watson, Beirut, Editors. They've got a hot streak at the moment, hell yeah.
Not: Foo fighters, Red Hot Chillipeppers, Radiohead
Yeah, big names aren't they? Well they've made their records and they've reached the hit-parades for sure but what I really don't understand is what's so special at those bands at this time, they're all a bit boring according to me. Brilliant, but boring, including their last songs they've made.
9. Which band or artist do you want to see back on stage?
Jeff Buckley, too bad that's not possible anymore...
10. What's the best videoclip ever made?
OK go - Here it goes again
Go and look for it on youtube, it's great!
11. What was your best concert ever

?
Chris Cornell may 22nd 2007 I believe, I'll never forget that show.
The song he dedicated to Jeff Buckley, who I didn't know at that moment, his energetic songs, and ofcourse he touched my head and hair, OMG. Wehehe.
12. Which artists/bands do you want to see in your life?
Coldplay, Editors, Pilot Speed, David Gray, Incubus.
13. What's the best live artist/band at the moment according to you?
Well according to me it's still Cornell, because I think the best way to give a good live performance is to show the crowd your energy in all kinds of different ways.
In your songs, your movement on the stage, voice, and he's not an artist who performs a little show from like 1,5 hour.
14. What will you do when you become famous?
I'll give some people my autograph and a hug or something if they want that.
15. What will you do when you become rich?
Buy an Island for myself, my friends and everyone I love.
And I surely will spend my old days there.